Well now I guess I should post about last night. Let's see... Yesterday I got up with all kinds of plans. I spent probably half the day cleaning up and finding my dining room table. It was getting pretty deep lets just say. That and the phone sure was busy too. Then after some turkey avocado sandwiches for lunch we set the table up to carve pumpkins. Figures my kids would choose complicated designs. Here are the pictures unedited straight from the camera so sorry if they are a little dark but I like manual settings since the auto just wants to use a flash, and I wanted to show you what it looks like in the dark.
Here is Francis' Jack O' Lantern.
and here is Bryce's which took me fooooeevva!
Then there's mine. A little sloppy since I did it last and I was just a bit tired after 3 hours of carving pumpkins.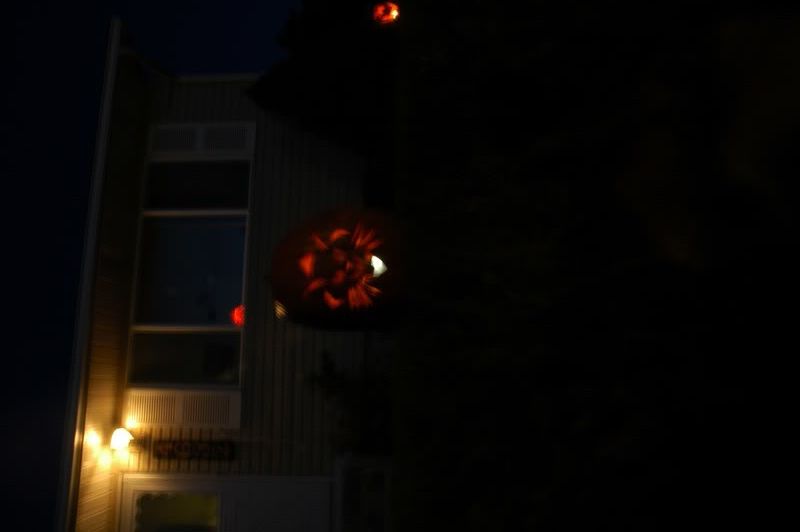 So then the boys were just to excited to eat dinner and I was too pooped. Turns out that everyone was too busy with Halloween to bother calling on their phone bills so Phil got to come home early. I guess in this neighborhood the Mormons take advantage of the park being so close and do a big shindig at the park. Then practically everyone around just parks backed up to Cotant Park and hands candy out from the cars. It was all very interesting. So maybe I bought too much candy. I really didn't know what to expect so I rather have too much than not enough. I tell you it was somewhere around 19 degrees Fahrenheit out there to so it was cold! Here is a picture of how one lady did up her car it was really cool.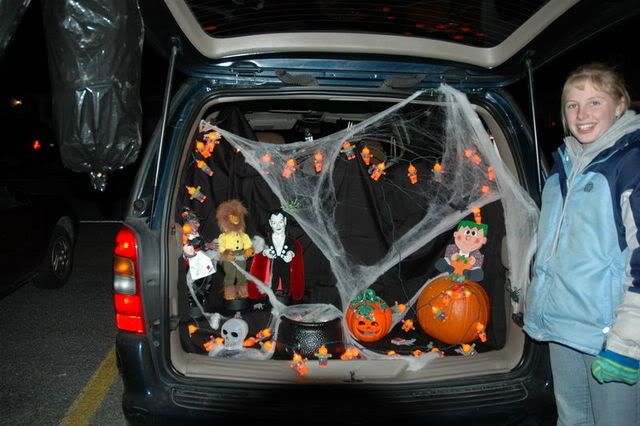 Then we came home and the boys warmed up a little bit. Once they were warm they wanted to go out again! So Phil took them out.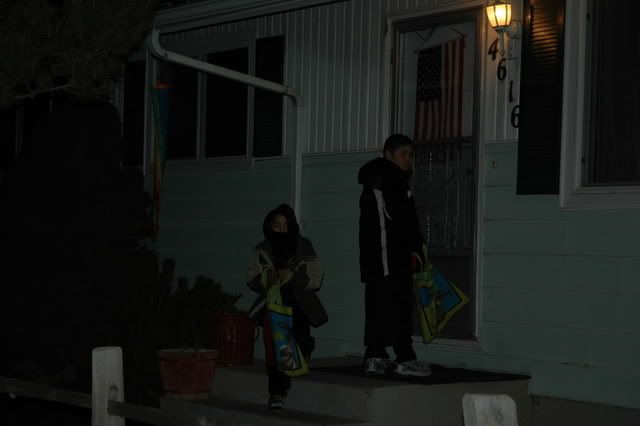 That was my Tuesday, Halloween day!
Today was an interesting day. I forgot to mention that Tuesday Shawn stopped by and dropped off 4 big bags of sorted apples that she had picked from that tree next door. So today I had to do something with it. I first cleaned the kitchen really good got the counters picked up as much as I could. Considering how tiny this kitchen is. Then I busted out the Kitchen Aid Juicer and cleaned and chopped up apples for juice. It was going good for a bit there then the thing started to make funny noises. Something doesn't look right now. I fiddled with it for a bit then decided to just go ahead and make applesauce from the rest of the chopped up apples. Of course that was probably a good thing since Kathy called about the newsletter and if we wanted to collect for Operation Christmas Child. I made several calls and found out no collection here in Pocatello but there was one in Idaho Falls. So we will collect a few and then her husband will drop them off when he goes to work. By now the apples had cooled enough to sauce them. Phil called and said he got off work early again so I figured I had just a little time to finish the applesauce. The boys and I ran the cooked apples through the hand mill in no time flat. Phil came home so we ran to look at a van that we will most likely buy tomorrow. Then we grabbed the boys and took off for dinner. I tell you Mama Inez's is awesome! After dinner we came home and did another batch of applesauce. Bryce is like all applesauced out. He says it's the best applesauce ever. I think it's becuase he put his own hard work into it. heehee... Now I have some apple butter working in the oven and some Mexican Meat Mix cooking in the crockpot. These will cook all night and most of tomorrow. Oh and some beefjerky marinating in the fridge. When the applesauce is done I will put the jerky in the oven. The boys are just drooling over that thought. Now I need to change the blog decorations before bed. Maybe I'll have a chance to start on a layout or two. Talk about layouts don't for get to stop by Butternug Squash and post some of your Halloween pictures for the
Photography challenge
. That will be ending on November 10th so there is lots of time to get them posted.
Also this weeks kit at the
store
will be the
Woody
and
Scrappy
paper sets. They are 50% off! That's right half price! Which makes them only $1.38 each set. They are great papers for your basics. So make sure you pick them up. Well I'm going to redecorate the blog and head to bed. Tomorrow will be another busy day. Way too busy for me. For once I would like to sleep all day just for the sake of sleeping all day. Not because I'm sick or to drugged up on allergy medicine. YOU Know? Toodles for now.